Or is it jiggity jog? I can't remember. Well either way, I'm glad to be home! I had a lovely week at my sister's home in Virginia. It's quite odd to see the baby of the family as a grown woman with her own home.
The drive is over 400 miles but can take 8-10 hours depending on traffic, since you have to go past some major cities. (We chose a different way home that added more miles but avoided the cities, and it was definitely the right choice for the Friday of a holiday weekend!) The initial trip was mostly uneventful, save one very hilarious moment. As we were passing by Philadelphia we came upon some small traffic cones. There were two of them laying in the road, and one was unavoidable. I hit it and we heard it rumble through under us. I could see it in my mirrors and was thankful that it hadn't caused damage or an accident. Over an hour later we stopped at a rest area in Maryland. When we were ready to leave, I backed out of my parking space and heard a thumping noise. I paused to look but couldn't see anything, so I put the van in drive and moved forward, whereupon what should I see in my mirror but the sad little traffic cone, kidnapped from his hometown and left forlorn in the parking lot in Maryland. We don't know where exactly he was stowed away for those 70 or 80 miles, but we certainly had a good laugh over it.
The one year olds were beyond entertaining, and at all hours nonetheless. We all bid farewell to sleep at the beginning of the week, as one or the other got up screeching every night. That's the silver lining of ending a trip with family. As hard as it was to kiss my sister goodbye, I did look forward to sleeping in my own bed again, with the Barnacle tucked away in his own crib in a separate room. Of course, he protested this greatly last night, so he wasn't quite as thrilled as I to be back home I suppose. His big brother also joined in, having a bad dream and needing consolation in the wee hours. I gave up sleep for Lent though, so it worked out just fine.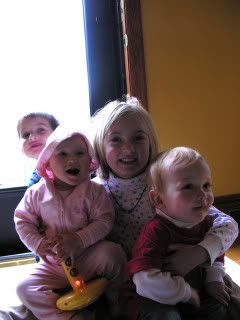 My sister and I stayed up late talking or playing Rummikub with our father. We ate too much food and laughed over too many ridiculous things and just enjoyed each other's company as intensely as we could in our little visit. I am so glad I was able to go, and thanked God repeatedly for our safe travel. The journey is a long one but the children tolerated it well. The Barnacle didn't revolt against it until the final hour of the drive home, during which he wailed nearly without interruption. But overall it couldn't have gone much more smoothly.
Gratuitous picture of my niece, napping under the quilt that her favorite aunt made for her: